Widmise Jocelyn, 8 years old lost her father, mother, sister and godmother in the new massacre at Grand Ravin. Currently she is in the care of the Grand Ravin Community Human Rights Council CHRC(created and sponsored by AUMOHD and Hurah, Inc. She saw the massacre take place from behind a curtain and is in a state of severe psychological shock.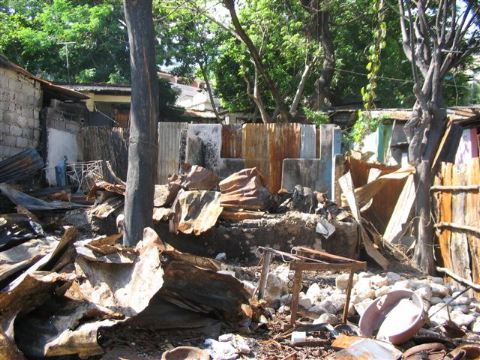 Over 300 homes torched, demolished creating thousands of refugees. Perpetrated by the mercenary Little Machete Army.
Donations to Hurah, Inc are tax-exempt and can be applied specifically in suppport of the GrandRavin CHRC

Tom Luce, President
Hurah, Inc. - Human Rights Accompaniment In Haiti
In Partnership with AUMOHD, a Haitian Human Rights Advocacy Group 900 US Advocates
1515 Fairview St. Apt. 3
Berkeley, California 94703-2317
E-mail: hurah_inc@riseup.net
Web: http://www.hurah.revolt.org
Tel: 510-428-1419
Skype Name: tomluce / Skypeln # (510) 342-5696
To donate (tax exempt org 501(c)(3))
Joan Rae, Treasurer
P.O. Box 418
Fayston, Vt. 05673 or
PayPal (http://www.hurah.revolt.org/hurah/fundraising/paypal.html)
Translation by Tom Luce, Pres. Hurah, Inc. (Human Rights Accompaniment in Haiti) http://www.hurah.revolt.org 510-428-1419

Dear Friends,
News of the second massacre at Grande Ravine last Thursday is now known by most people concerned with Haiti as we all are. The mainstream has reported on it as gang warfare mainly. Reed Lindsay's article in the Washington Times put out the more nuanced report that it is socio-political.Our work following the last massacre shows that despite pleas by AUMOHD to the government to act on the first massacre, even the jailing of the police perpetrators was undone by Judge Jean Paul Peres. Impunity led to a second massacre.
After last August's first massacre AUMOHD with support from Hurah created a Community Human Rights Council which flourished and handled the ugly details of verifying bodies, providing for funerals and astoundingly moved beyond to form disarmament groups among the neighboring communities.
The people involved agreed that the outside influences which had fostered this violence among neighbors had to stop. Now according to preliminary reports a small faction funded by outside sources, most likely criminal, political or both, paid new perpetrators to carry out this second massacre.
AUMOHD needs your help to keep working at this horrible problem. Their workers have been traveling day and night to the community, to the MINUSTAH authorities and to the police pressuring for increased attention and support. Your help would help greatly. We are out of funds.
Please read the AUMOHD preliminary report below.
Tom Luce, President of HURAH (see information about donations in the left hand frame)
---------------
THE FOLLOWING IS A TRANSLATION BY TOM LUCE
---------------
AUMOHD PRELIMINARY REPORT ON THE NEW MASSACRE AT GRANDE RAVINE
FROM JULY 6-7 2006
SOURCES USED FOR THIS REPORT:
-Meetings with the relatives of the victims and witnesses
-Meetings with the members of the Community Human Rights Council-Grande Ravine (CHRC-GR)
-Visits to the morgue at the State Hospital
-Meeting with the police authorities
-Meeting with the judiciary authorities

I- SECOND MASSACRE FROM JULY 6-7, 2006
In the night of Friday, July 6, 2006 the people of Grande Ravine, a zone situated in the south of the capital was the victim for a second time of a massacre, this time with a preliminary report that is very heavy in terms of deaths, wounded, disappeared, traumatized persons, and burned houses. This new massacre took place about 11 months after the first. In order to better understand, then, this new new massacre against the civilian population of Grande Ravine it is necessary first of all to understand the socio-political, judicial and security context in the whole country and above all the connection that exists between the first massacre (impunity, irresponsibility, and disrespect for the human person) and this second catastrophe.

A- Provisional Report On the Massacre
The report is heavy, sad, upsetting, even shocking. According to the testimony collected from the people and members of the Community Human Rights Council of Grande Ravine (CHRC-GR)established by AUMOHD, based in Grande Ravine, more than 25 people were executed inside their house, about 5 persons were disappeared, some 15 wounded by a group of heavily armed men, coming from TIBWA, Descartes, Decarette and Baz Kapab de Carrefour Feuille with weapons such as:rifles, T-65, Galil, and M-14; revolvers, 38, 45; and there also were weapons with blades, machetes, knives and sticks. It is to be noted that almost all of the names cited as alleged authors and accomplices in this hateful crime were already cited in the massacre which took place on August 20-21, 2005 at St. Bernadette during a soccer match. We cite some individuals accused by the people and witnesses:
1.- Frantz LORAME Alias Gerald Gros lonbrik 2.- Roland Toussaint
3.- Apoupam Junior
4.-Roody DAGUIZAN
5.- Jean YVES Alias BROMN
6.-Geffrad Stevenson Alias TIAS
7.- Joël Ainsi connu
8.- Janjan Ainsi connu
9.- Elifaite junior *
10.- Becheneve Etienne
List of 24 People Assassinated

a) Number of males (16 total)
1.- Sony LUCIEN, age 63, received several bullets in the head
2.- Pradel DEL, age 58, 3.- Esteve PRESNOR, age 23, received one bullet in the head
4.- Yves Jean PHILLIPE, age 56 received a bullet in the left eye
5.- Elde Saint LOUIS,age 22 6.- Joseph JOACHIN, age 45, father of 3 children and his wife Melicy MAGLOIRE also wounded by a bullet in the right leg 7.- Odinor SAINT LOUIS, age 40
8.- Isam Jocelyn
9.- Sauveur FRANCOIS, age 37 10 Saint Martin INNOCENT, age 5 ans
11.- Saul MORANGE,age 19
12.- Jean Junior THOMAS
13.- Claude YVES
14.- Nabien alias
15.- Clair alias
16.- Jean Simon
b) Number of Women (4 total)
1.- Madame Daniel INNOCENT elderly, mother of Peter Son Innocent, she received a bullet in the head and her right arm was cut off
2.- Dalmise SEJOUR
3.- Estin Fils LOUIS, age 43
4.- jean Louis THERMILYA
c) Number of children and minors ( 4 total)
1.- Peterson INNOCENT, age 12, received two bullets in the neck
2.- Widsie JOCELIN, age 5, head crushed
3.- Jean Wilem SANON, age 11, head crushed
4.- Jean Louis STENGIL age 17
d) number of bodies disappeared according to witnesses
Approx. 5 (this remains to be confirmed)
e.- Number of wounded (still to be confirmed)
f) Number of wounded found by AUMOHD (5)
1.- Pedro MICHELLET
2.- Melicy MAGLOIRE 3.- Junior alias
4.- Maint SEJOUR
5.- Thullus ERNSO

II.- NUMBER OF HOUSES BURNED
- Approx. 40 houses were pillaged and then burned (this remains to be confirmed by AUMOHD) -
III.- RECCOMMENDATIONS WILL BE MADE WITH THE FINAL REPORT