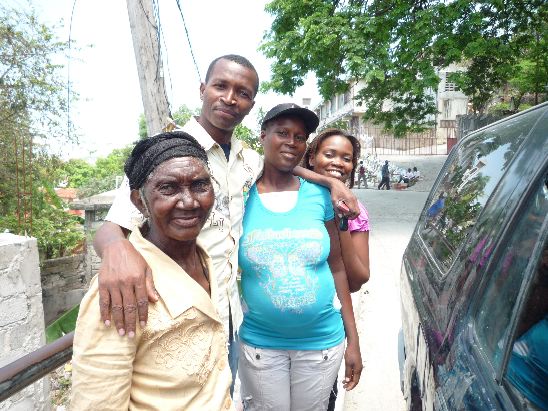 IDALIA FRAN&Ccedil'OIS
by Gaëlle Celestin
translated by Tom Luce
photo: Idalia, Atty. Fanfan, Idalia's daughter, Gaëlle Celestin
- Tom Luce, April 09

A married, widowed, mother of 6 children, Idalia's husband died following the painful events of 1991 (armed coup against Pres. Aristide).  Since then she has been in charge of her 6 poor children as a widow.  She has worked very hard to send them to school.  They have all been in school.  She built her own house in Grand Ravin having boiught a piece of private land.

ASSASSINATION OF HER SON

In the month of July 2006 here oldest son, Claude Aristide was assassinated for having the same name as the expresident Aristide.  She had her life saved thanks to a neighbor who kept her at her house during the night of July 26,27

HER HOUSE WAS BURNED
 In the month of August 2006 one month after the assassination of her son, Aristide, her house was burned with all of its contents, her sales stock, papers, everything.  From that date she has had to live the life of a nomad.  She has no means to rent a house nor the means to start up her business again.

CURRENT SITUATION
Mother of 5 children without a job, victim twice of armed violence, her economic condition is very serious.  According to her she intends to begin a minimal amount of her business again.  She wants to have her house repaired from its almost totally destroyed status.  She sends out a call for help to everyone to help her take up a normal life again.

QUOTE FROM IDALIA

   " If it were not for AUMOHD and Atty. Fanfan I would already be dead.  Atty. Fanfan has taken the place of my boy who died."